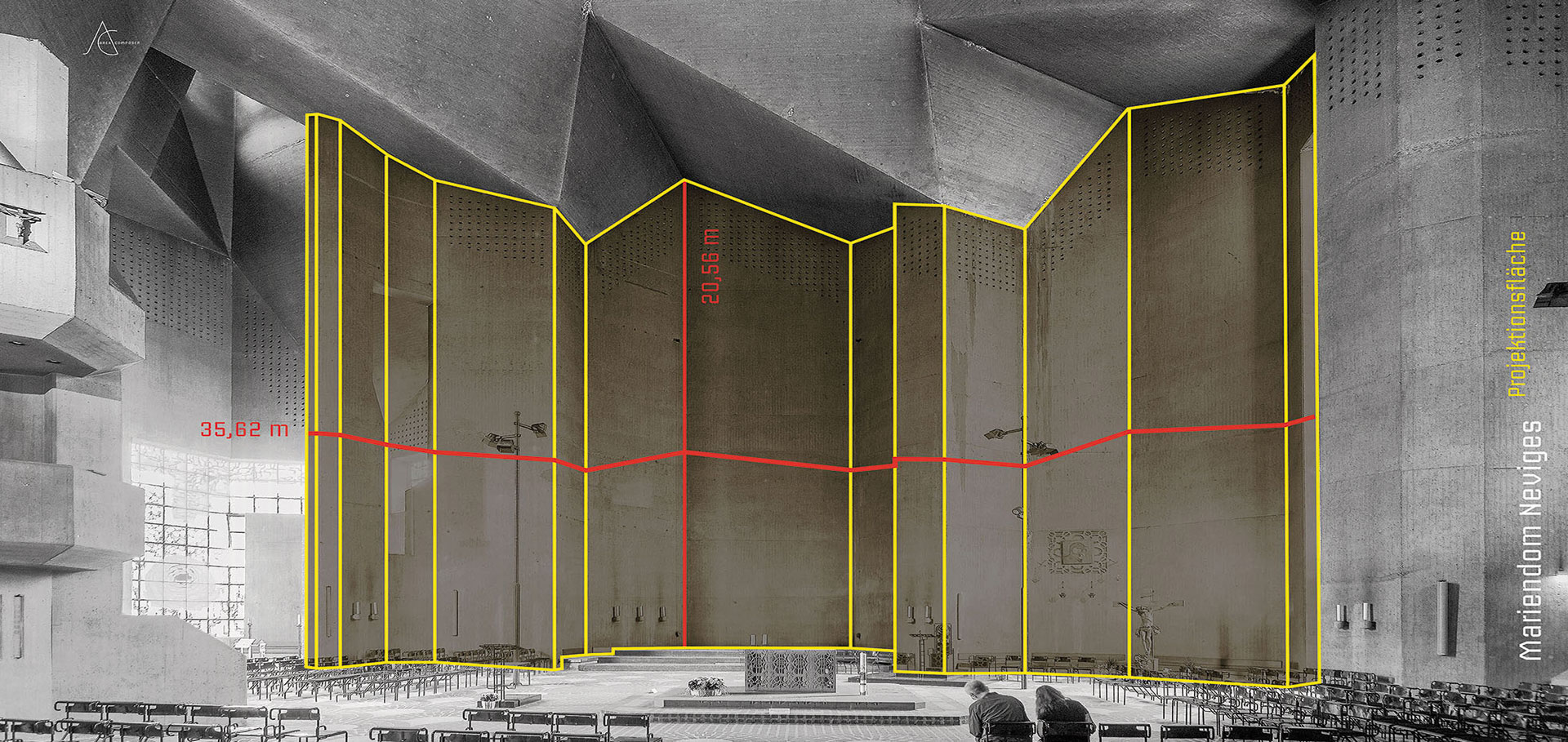 From the idea to the performance
The story of PHARUS begins on a bright sunny day in April 2015. The Area Composer visit the "Mariendom" in the German town Neviges and are fascinated by the famous pilgrimage church, built by architect Gottfried Böhm. With the consent of the Neviges pastor, Brother Frank Krampf, the artists take pictures and sound recordings of the building to capture its shapes, colors, sounds and noises and to grasp all its facets. At the end of the day they have collected more than a thousand single photos with long exposure and over four hours of sound recordings.
Peter Hölscher transforms his photos into a Liquid Image, a series of  images that slowly merge into one another and combine to form a play of colors and shapes of familiar views and surprising details. Ronald Gaube uses excerpts of his sound documents, adds voices of classical instruments and electronic sound structures and composes a soundscape. Image and sound composition finally merge into a first version of the Area Composing, which is given the title PHARUS (lat. Lighthouse).
In January 2017, the Area Composers return to Neviges to show the first two parts of PHARUS to the Franciscan brothers . The monks react enthusiastically . Thus, they have never seen their dome before. Spontaneously they express the wish that this media portrait should be shown to the public – in the jubilee year of 2018, when the Mariendom will become 50 years old. In cooperation with the pilgrimage Neviges and with the support of the city of Velbert, the planning for the performance of the video-sound-installation begins. And so it becomes true what the Area Composers have dreamed of on this bright April day: that PHARUS returns to its place of origin and lets the fascinating church building shine in an entirely new light.
In December 2017, NRW Minister of Economic Affairs, Prof. Dr. Andreas Pinkwart, and architect Peter Böhm (son of the builder Gottfried Böhm) become patrons for PHARUS.